In my opinion, a light rail system in Greater Syracuse is viable if one of two things happen.
1) Destiny USA becomes a reality. The full scale resort, not just the mall expansion.
2) The population of Onondaga County increases from 460,000 to about 700,000.
Destiny USA will bring in tourists, thus making it possible to create a rail line that people will use. IMO, the population of Onondaga County isn't high enough to support a light rail system without Destiny USA. But, if this region booms and grows over 250,000 then I believe Onondaga County can support a light rail system without Destiny USA.
Here is a Map showing a possible light rail system in Onondaga County. Of course it's just my rough draft of what could happen. This Light Rail system only uses existing track lines. It could always be extended to places like Hancock International Airport. Brewerton is not on the map, but it could be included as a stop too. My idea is to have newly built walkable communities near many of the light rail train stops. This way you can live in the suburbs but work in the city without having a car.
Light rail line = Orange
Rail Stops = Red
New Urbanism communities = Pink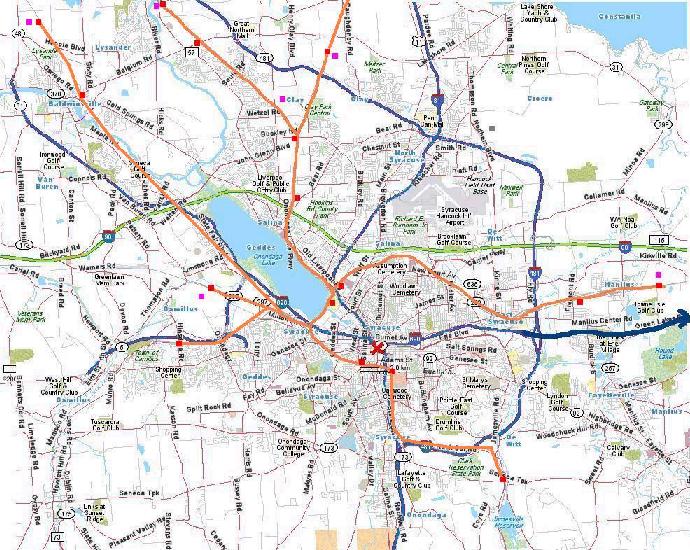 At the train stops that don't have a walkable community, there should be large parking lots so people can drive there to catch the train.